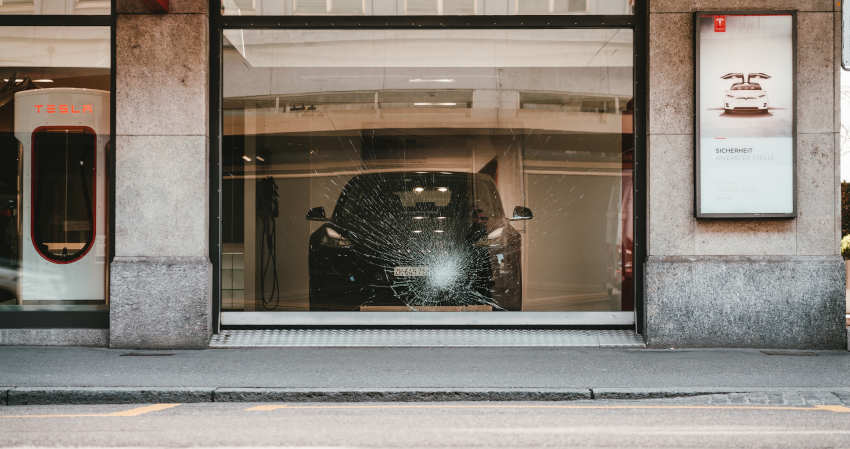 One Simple Way to Protect Your Glazing Against Vandals
Street crime is unfortunately now a day-to-day occurrence, as detailed in a recent report by the Evening Standard. The story focuses on a street in West Hampstead which has been subject to 20 smash-and-grab-style vandal attacks in a single 6-week period.
Both independent stores and chain stores have been affected. Criminals have used concrete blocks, boulders and crowbars – seemingly anything heavy that they have to hand – to smash their way through unprotected storefronts and shop doors.
The costs to the store owners are obviously not limited to replacing the glazing. Property is damaged and stolen whilst the closure of the business affects short-term sales. As you can imagine, what appears to be an act of simple vandalism has serious monetary consequences for any businesses that are targeted.
Solutions being suggested include replacement glazing and roller shutters, but these are expensive, retrospective options and overlook a simple alternative.
Security window film is easy to apply, cost effective and protects against exactly this style of vandalism. In fact our security window film is designed to withstand bomb blasts, holding the glass together to prevent the glass from shattering. It's ideal for protecting against smash-and-grab attacks, minimising any financial losses in the face of attempted vandalism.
Our security window film can be installed with minimal disruption during working hours. When fitted by Solartek Films, all of our window films hold a 10 year guarantee for your peace of mind.
It's even possible to tackle other issues at the same time as protecting your property. Our combined solar and security window films offer the same level of blast protection as standard security window films whilst also reducing your energy bills. Solar window films are specifically designed to retain heat in the winter whilst reflecting heat in the summer, keeping your store or office at a comfortable temperature all year round.